Agate Grey – New to DirectPlastics.com
2020 certainly isn't turning out to be the year that many of us had hoped for. With COVID-19 putting an end to the majority of our plans including holidays, weddings and much more, most of us are starting to turn our attention to the jobs around the home that we've been meaning to do for months (or even years!!).


As always, behind the scenes at DirectPlastics.com we've been busily working away to give you a new and exciting product, and with that in mind, we bring to you a brand new colour that will be available across our full range of uPVC fascias, soffits, uPVC trims and all required fixtures and fixings… Agate Grey, RAL 7038.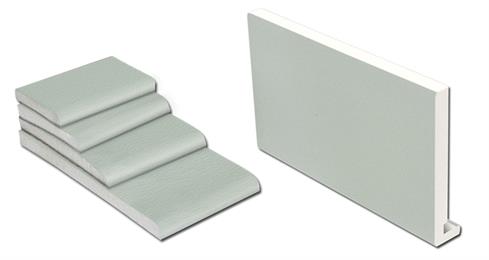 Undoubtably Grey has become a hugely popular colour over the last 5 years, whether that be inside the home in the way of soft furnishings or on the exterior such as grey uPVC doors, windows and roofline. Just going on a local walk you're likely to see Grey doors and windows on a large proportion of homes.


Different Shades of Grey


Anthracite Grey (grained) and Dark Grey (smooth) (both RAL 7016) were the first shades of grey that we introduced to our range of uPVC roofline over 6 years ago, followed by Slate Grey (RAL 7015), a slightly lighter shade around 2 years later.


Fast forward and the demand for grey is not slowing down! And, so we are proud to showcase our new lighter grey, Agate Grey, RAL 7038. Much lighter than Anthracite and Dark Grey and featuring a realistic wood grain texture it's a colour that will look stunning on most properties!


Although typically paired with matching Agate Grey Doors and Windows, it also looks fantastic paired with Light Oak or Irish Oak roofline, doors and windows. Some of the most stunning Agate installations that we have seen have been on sandstone brick coloured houses but Agate Grey really is a colour that compliments most properties.


Contact us via our Contact Form for a free Agate Grey colour sample detailing your full postal address.