Direct Plastics Diverse Colour Range
Here at DirectPlastics.com we have the largest online stock levels - so we can supply you with everything you need, when you need it. With a wide range of uPVC products available, including uPVC Fascias, Soffits, Trims, Cladding, Gutters and more – it is no surprise we pride ourselves on our extensive colour range, ensuring there is a colour for every style of property.


Whether your property is super contemporary with a brand new anthracite grey Composite Door or a countryside cottage with sandstone brick, we have a colour to suit your home. We have 15 beautiful colours available, helping you to stand out from the crowd or to blend in with the street.


Our 15 different colours include Black, White, Irish Oak, Golden Oak, Chartwell Green, Anthracite Grey, Slate Grey, Dark Grey, Mahogany, Rosewood, Cream, Foiled White, Blue, Red and Green. These colours are available across our Fascias, Soffits, Trims and Cladding – all manufactured by the industry leading manufacturer, Homeline.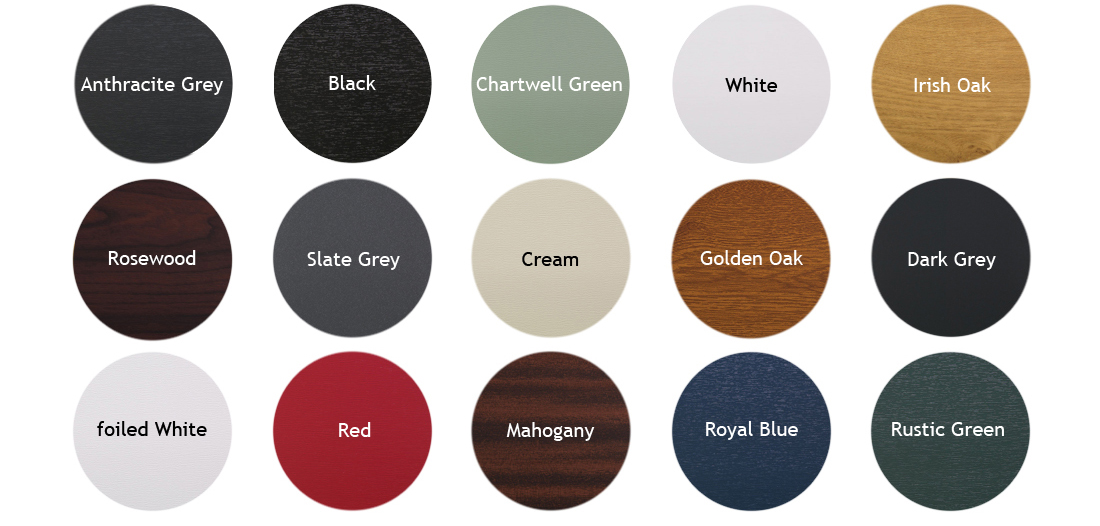 The colour grey has boomed in popularity with homeowners over the past few years. Whether that's for uPVC windows, Fascias and Cladding or full grey interiors thanks to Instagram's Mrs Hinch! As we think it's so important to have a wide choice when it comes to your home, we don't just supply our uPVC products in one grey – we have three! Anthracite Grey, Dark Grey and Slate Grey. Slate Grey is the lightest grey we offer (RAL 7015) and features a smooth satin finish. Our Dark Grey and Anthracite Grey are both RAL 7016, however the Anthracite Grey features a subtle woodgrain and the Dark has the same smooth finish as the Slate Grey.


Perhaps your property is more traditional. The most traditional colour for Cladding, Fascias and Soffits (not to mention uPVC windows and doors) is White. Many properties still have wooden boards on their home, which often warp, bend and need repainting. Our uPVC boards require little to no maintenance and are easy to install. They are also protected with Homeline's Heat Shield Technology, which ensures they won't fade and will look great for years to come. If you want to stay traditional, why not choose our White, Black or Foiled White Fascias?


Choosing a colour for your home is a big decision and not something you want to rush into. If you need any help with this, don't hesitate to give us an email at customerservice@directplastics.com. We can send out a colour sample to help make the decision easier!