uPVC trims: what are they and what do they do?
uPVC trims can be used for a range of different projects and give a professional finish to all kinds of installations, from windows and doors to shower and bathroom installations, a uPVC trim can provide a neat, water tight edge.
Stocking a wide variety of uPVC trims in a colour range that rivals most, you can choose from Architraves, D-sections, Quadrant trims and many more so you can achieve the flawless finish you're after.
A colour that is becoming increasingly popular across our range of trims is Grey and for that reason we have expanded the choice to include 3 different Greys; Anthracite Grey (RAL 7016, grained), Dark Grey (RAL 7016, smooth) and Slate Grey (RAL 7015, smooth). Typically used to trim aluminium doors and windows our Grey uPVC trims are ideal for that property looking for a quick tidy and modernisation!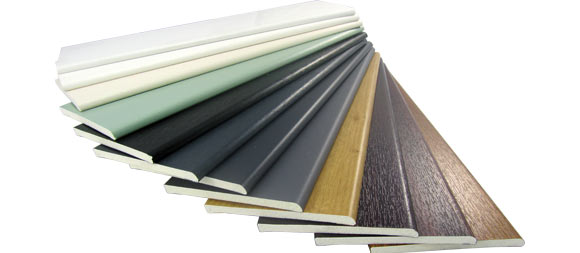 Of course the use of uPVC trims isn't restricted to doors, windows and roofline… Our Light Oak and Irish Oak Quadrant Trims can be a perfect match for laminate flooring and are often used for bridging the gap between the skirting board and floor. uPVC trims really are as versatile as you want them to be and are a great way to tidy and update a property without breaking the bank.
Here at DirectPlastics.com we love to introduce new colours to our range of uPVC trims but we also love the traditional colours including, White, Black (RAL 8022), Light Oak, Cream (RAL 9001), Rosewood and Mahogany.
All of our uPVC trims are manufactured by Homeline in 5 metre lengths and come with a 10 year guarantee as standard and are all available on an express 1 -2 delivery service, along with all the other essentials you need to finish the job, including Soudal Silicones, Plastic Headed pins and nails and high viscosity superglue.
As with all of our products, we are always on hand to offer advice on orders and fitting. Either give us a call on 01254 918 046 or contact us via our contact form.