Gutters and Downpipes

Here at DirectPlastics.com we offer an extensive range of uPVC Gutters and Downpipes in a variety of colours and profiles. It isn't just the gutter and downpipe lengths that we offer, we also supply all the outlets, unions, angles and fixtures you need to complete the installation – making a what can be a stressful job, easy!


All of our Gutters and Downpipes are manufactured by the Industry leading, FloPlast who have been manufacturing uPVC rainwater products in excess of 20 years. Designed to be strong and durable, yet lightweight for an easy installation, they are suitable for both home renovations and are often used on new build properties. With their Cast Iron Effect Gutter range looking almost identical to the real thing it's no wonder the range is becoming a best seller, along with their Anthracite Grey Gutter.


Gutter Styles


Ogee Gutter, also known as Niagara, has a decorative front profile with a flat back for easy installation and is the perfect rainwater solution if you're looking for something a little more traditional. L: 4m x D: 80mm x W: 110mm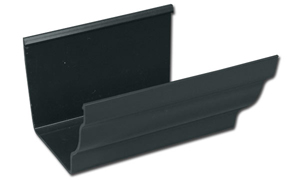 Half Round is the most popular gutter style for the average domestic property. Simple and practical - it's easy to install and carries a good flow capacity. L: 4m x D: 68mm x W: 112mm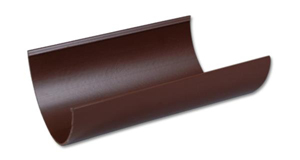 Square Guttering's profile has a slightly more modern shape when comparing to profiles such as Half Round but carries a similar flow capacity. L: 4m x D: 65mm x W: 114mm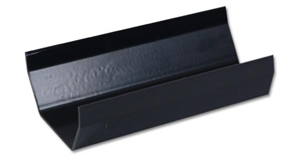 Hi-Cap Gutters (also known as Deep Flow) are designed for larger roof areas and able to carry a higher capacity of water flow, perfect for smaller commercial buildings or large domestic dwellings. L: 4m x D: 75mm x W: 115mm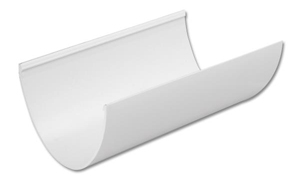 Gutter Colours


At DirectPlastics.com we carry FloPlast's White Gutter in a range of profiles, including Half-round, Square, Hi-cap and Ogee, with Downpipes being available in both Square and Round. As we head into Autumn and Winter, it might be worth adding a Snow Guard to your order, to make sure you protect your new gutters from snow and loose tiles.


Black is perhaps the most traditional rainwater colour available, but is still incredibly popular. If matching your Gutters to your Windows and Door is too much of an effort – black is the colour for you. Available in Hi-Cap, Ogee, Half Round and Square - you have your choice of profiles and can style your home how you want it.


Brown Gutters and Downpipes are generally used on properties with Mahogany or Rosewood Windows and Fascia Board. Our uPVC Brown gutters are available in Hi-cap, Ogee, Half Round and Square with both Round and Square Downpipes also available. Make sure you remember to add your gutter brackets, stop ends and downpipe clips to your basket to get a professional finish on your installation.


Cast Iron is an extremely traditional choice for Gutters and Downpipes, but with it comes a huge price tag. Our uPVC Cast Iron style is a cheaper, low maintenance and an incredibly popular alternative. Available in both Ogee and Half Round, with a round Downpipe, our Cast Iron style features all the benefits of uPVC but with the texture and appearance of Cast Iron.


Our Grey Gutters and Downpipes are a light grey shade (RAL 7046) and can be paired with our Slate Grey Fascias, Soffits and Trims. We stock Grey Gutters in Hi-Cap and Half Round with a Round Downpipe available to match. We also have Grey unions, outlets, angles and everything else you need to complete your installation.


Another of our contemporary colours, Anthracite Grey is a few shades darker than our Grey Gutter and Downpipe. The Anthracite Grey is RAL 7024 and perfectly matches our Anthracite Grey (RAL 7016) Fascia and Soffit boards. This colour is becoming increasingly popular with homeowners and look fantastic with Anthracite grey uPVC Windows and Composite Doors.
For more information give us a call on 01254 918 046 or email us at customerservice@directplastics.com.